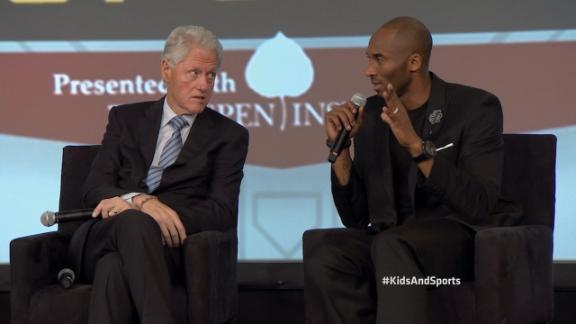 Building a community through the language of sports and play is part of the foundation of Sports for Sharing. It is probably unsurprising then, that we celebrate any moment that the value of sports and community are championed on a public forum by some of the world's most famous faces. Last month t the Clinton Health Matters Conference during an ESPN Town Hall hosted by Mike Greenberg, Kobe Bryant and Bill Clinton discussed sports and kids, and how sports affected their lives from childhood. Sports is considered a valuable tool for human development, and this dialogue was brought to a national audience.
Both Bill Clinton and Kobe Bryant elaborated on moments from their youth when sports played a major factor. For Clinton, one moment in particular runs strong the former United States President, "I still remember the only church league basketball game that I was the leading scorer. I was 16 years old and I remember it like it was yesterday. I remember the basket I made to be the leading scorer. You may think that's silly, like this guy's been president and he's thinking about a basketball game … it was one of those magical nights. I might as well have won the NBA championship."
Meanwhile, Kobe recalled his childhood growing up in Italy, not knowing a word of Italian, and learning to communicate through sports and playing basketball. He deemed sports as "the universal language" that helped him grow as a person and living in another country. Another big part of his emphasis was the cultural movement away from competition, "There's a lot of people out there who don't believe in having healthy competition," Bryant said. "I think we have to make it enjoyable and for kids to understand that there's a certain spirit of competition that's fun. It's not nasty, it's not aggressive, it's just fun competition, and I think when you have that kids will go out and enjoy themselves. They'll pick up their activity instead of just plopping down in front of the TV."
The chat was intended in part to address the growing trend towards less physical activity and athletic participation. Most reliable surveys indicate less than 1 in 3 children between the ages of 6 to 17 play sports on a daily basis, at least in part due to the cultural shift away from traditional sandbox games play. We often hear of the increasingly competitive youth club teams for most major sports that then exclude children that are not as gifted or fail to make the cut to play the games they love. For Bryant, it is about getting back to playing sports because they are fun with your friends, "As a kid growing up, it was fun trash talking with your buddies and competing with your friends. That's what made getting out and being active fun." In other words, have fun playing sports with your friends, not just playing sports to go pro.
Kobe has indicated that championing sports for kids will be the focus of his work away from the court, both during and after the future Hall of Famer's career comes to an end. Clinton's foundation is partnered with the Aspen Institute's Project Play which launched April 2013 with the slogan of "Reimagining youth sports in America." For more information, follow this link to a comprehensive report on physical activity in America and helpful infographics. Watch the video below to see the full conversation between Kobe, BIll Clinton and ESPN Radio's Mike Greenberg.
(Photo Source:)
ESPN